To learn more about KTBYTE classes, visit www.ktbyte.com
Kristen's middle school had a STEM based program that made CS (computer science) a requirement, which piqued her interest in coding. She started taking KTBYTE classes soon afterwards. Kristen remembers making a Mario game simulator in her first year at KTBYTE that she still plays to this day.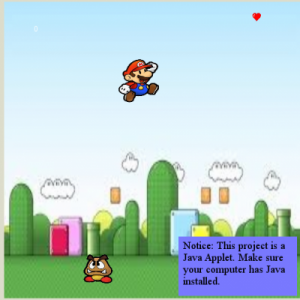 Kristen's Mario-inspired project
She accelerated through the program, reaching college CS material within 2-3 years. When asked what she thinks of CS, she says:
"CS is the new math, and one of the largest growing industries. You will probably never be unemployed if you go into CS, so if you want to have job security and have fun in an awesome innovative field at the same time, get started now!"
Kristen's coding experience was already a great benefit to her during high school. She was part of a Ten80 club that built and raced RC cars, and was one of the few members of the team who knew how to code. As a result, she was quickly put in charge of the project team, then advanced to captain of the racing team.
"Computer science really put me into a position where I had a leadership place on a team."
Kristen has not just learned, but also interned at KTBYTE, and is still working as an off-site teaching assistant today. She is currently studying mechanical engineering at Cornell University. In the future, she hopes to work on improving autonomous vehicles, particularly self-driving cars. What she learned at KTBYTE will help her reach her goal, since much of this field relies heavily on CS and deep learning.
"I'm interested in researching self-driving cars and that uses a lot of machine learning. I actually took a machine learning class last semester here [at KTBYTE] so I'm excited to see how my CS knowledge helps me in that field!"
Kristen is currently doing research in the Autonomous Systems Lab at Cornell, and uses CS in every part of her work.
Another KTBYTE student, Jackson, is doing professional-level software engineering as a high school student. Read his story here.
---
[wpforms id="2359″ description="true"]