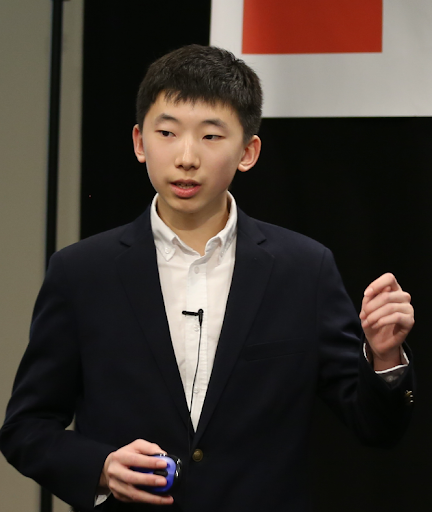 One KTBYTE student, Jonathan Lei, has worked on developing his robotics skills and entrepreneurship abilities over the past years. As a rising freshman at Acton-Boxborough High School, he has already become the head of the advanced KTBYTE robotics club and runs web hosting services on his servers at home. We'll take a deeper dive into his achievements below.
Personal Projects
One of his many accomplishments is being the founder ISODME, a website hosting and cloud services company used in over twenty countries by corporations, nonprofits, and freelancers. He provided some consulting services in addition to running their services, and in the process, learned about Linux and networking. When first working on launching this project, he took feedback from his friends who tested out his ideas to see what worked and what didn't. He has also developed his understanding of Pearl and PHPs over several months.
For him, he says it's fun to figure out how to apply new knowledge learned in his life, taking the interleaving learning technique to a new level. Over the past summer, he studied the blockchain industry and developed his own hardware manufacturing ideas for the future, in addition to mining some Bitcoin. 
He's pinpointed the necessary skills and mindset of an entrepreneur. In an interview, he states, "It really just depends on their motivation…for me at least, this kind of work isn't really work. It's just something fun for me to do." He also highlights the importance of understanding networking and finances.
Robotics Club
He started as a teaching assistant of the beginner robotics club at KTBYTE, before becoming an instructor of the intermediate club, and now a leader for the advanced club. He believes that one of the challenges is helping everyone understand how a particular process might work, sometimes creating analogies.
In addition, as the leader of the advanced club, he deals with the operational side as well, contacting parents through email and talking with them after class. He's worked on communication skills as he explains code and programs to those who may not be as well versed in the area. 
Below is an email he sent out to parents.
Hi everyone,

I hope everyone is doing well. Happy holidays! The decade is ending shortly, which is quite sad in my opinion. A lot happened in my life during these ten years, and I know that many more exciting things will occur in our lives in the next decade.

By the end of the next decade, I will have hopefully graduated college and found a well-paying job… Where will you be and how will you get there?
I think that it is important for us to take a day to reflect on our past experiences to improve our future. The more failures we experience, the more things we can improve about ourselves. Using these reflections, try making some New Year resolutions.

The topic of recommendations came up in a recent team email. Previously, I would hold students back. However, I think that a student understands their situation best. If a student does not feel confident in our basic material, they can retake the class, talk to me to catch up, or learn online. I will be happy to schedule an online lesson or just email some explanations. I recall taking one class and then jumping down two levels because I did not understand the material. Students: it is much better to be "behind" than to take a class that you do not know if you are ready for.

Back when I was smaller, I would marvel at my friends speeding through the classes – faster than I was. Today, some have quit programming, and their only memories are of it is being hard. 
If students feel that they have enough knowledge to be able to build apps with a bit of help, they can consider taking the robotics advanced club. This is similar to a startup incubator.

Students build projects and present at competitions while receiving support from me and Vikram, my TA. However, students will require quite a bit of time to learn additional material for their individualized projects. If students feel that they are comfortable with reading documentations and applying them, I highly suggest signing up for this class.. The competition season is coming up, so this is a great opportunity and my recommended option for all students. Again though, students may choose their own preferred class.

I think that it's important that they enjoy the experience of programming and learning new things. This is a skill that is not taught in traditional schools, yet it is vital in today's age, so if you/your son/daughter are not too keen on the idea of them making individual projects with apps, here are two other clubs that students can consider.

Smart Things (Use Raspberry Pis, small computers, to create cool projects)

Robotics Club (Use Arduinos, a programmable chip, to create cool projects with sensors and output devices such as motors or screens)

Students, remember to finish our ML Kit image classification app. Also, final projects are due on January 5th. Take a break and then chip away at the task.

Our next class is on January 5th, and the session afterwards starts in February for all classes. I previously thought that the new session started immediately after. Please make sure that you know this.

As a final note, I highly recommend enrolling now, as prices go up 10% on 1/1/2020.

Best,
Jonathan
Below is an email from a parent about Jonathan.
Greetings!

I'd like to thank KTBYTE for providing opportunity for kids like Jacob to learn in the App class. Jacob enjoys the class very much, and is able to pick up quite a lot of software knowledge while having fun. 

Being a parent, I had the opportunity to sit on the side and listen in. I must tell you that you have great assets in your teaching staff! From my observation, the instructors (Jonathan and Amanda)  appear so organized, and well prepared for each class. The slides are well written, and key knowledge points are presented in such a way that is easy for middle-schoolers to understand and quickly remember. They did a great job keeping the students focused during 90-minutes session, which is normally hard to do with a group of 12-year olds in the class!

They showed great passion and enthusiasm, and that, I had no doubt, had great influence to the whole class. Homework projects were carefully chosen for students to re-enforce what they have learnt at the class, at the same time, left enough room for students to explore on their own. At the beginning of the following class students got chance to talk to the instructor one on one to get individual questions answered.

Overall I am very grateful to have Jonathan and Amanda as instructors for this class! Look forward to a strong ending of this session (only 2 classes left) and continuation of this exciting journey with coding! 

Wish you, your family, and everyone at KTBYTE a very happy holiday session!
Classes
Currently, he is enrolled in all honors classes at his high school and deals with a heavy workload. This is in addition to the responsibility he's taken on at KTBYTE. One of the most significant skills he's learned in school is how teamwork functions, from how people build off each other to not overloading one member of the team with too much. It's a precarious balance, making sure everyone contributes at the same time.
Jonathan also started KTBYTE class when he was in 4th grade. He's taken most of our available courses, including 00a and 00b, enjoying the challenge of solving new problems. As he said, "The purpose of programming is to…learn and have fun. And once you have fun, you can start doing something cool with it." Other classes he's taken here include Fun, Pre-CS, CS01a, CS01b, CS02a, CS02b, and CS82. He takes several concepts learned in class and apply them to his algorithms in his various projects, directly seeing the impact lessons have. He has several leadership roles and achievements from KTBYTE as well, such as being a TA and the Design App club founder.
For students also taking classes at KTBYTE, his biggest piece of advice is to go to office hours, which can be helpful for questions on a complicated topic or discussion on a new idea. As for the programming language…he wasn't too concerned about which he learned first. After all, a lot of it can be just changing the syntax of prewritten programs for it to fit in the new language. To him, what's most important is having fun and interesting classes that captivate his interest. 
Achievements
Over the course of several years, Jonathan has racked up a considerable number of achievements for entrepreneurship and computer science. He participated in the USACO Silver Division, and has also been a two-time finalist in the National Invention Convention and Entrepreneurship Exposition. He is also a second-place winner and a two-time finalist of the International Paradigm Challenge, a competition that deals with real-world problems.
Jonathan has also won first place at the NECINA Youth Entrepreneurship Service Competition and claimed the grand prize at MetroHacks 2019. In addition to personally competing, he has been the coach of a First Lego League team that earned a first-place award. He has also helped as the co-organizer of hackathons and other events.
Future Plans
For those in the Robotics Club, he wants to make sure they have a strong foundation of understanding so that he can prepare them for the competition season describe yourself essay. In addition, he would like to train more TA's and expand the online courses at KTBYTE to make it more accessible to those outside of the state.
Also, he wants to launch a product for consumers to use. While he's not sure about which college he wants to attend yet, he does know that he's interested in pursuing a computer science major. The future is bright for Jonathan Lei. As he said himself, "If you're passionate about something, you'll stand out from the others."
There are several other treatment options for ED. viagra tablets Other oral medications in the same class as sildenafil include avanafil Stendra , tadalafil Cialis and Adcirca , and vardenafil Levitra and Staxyn.