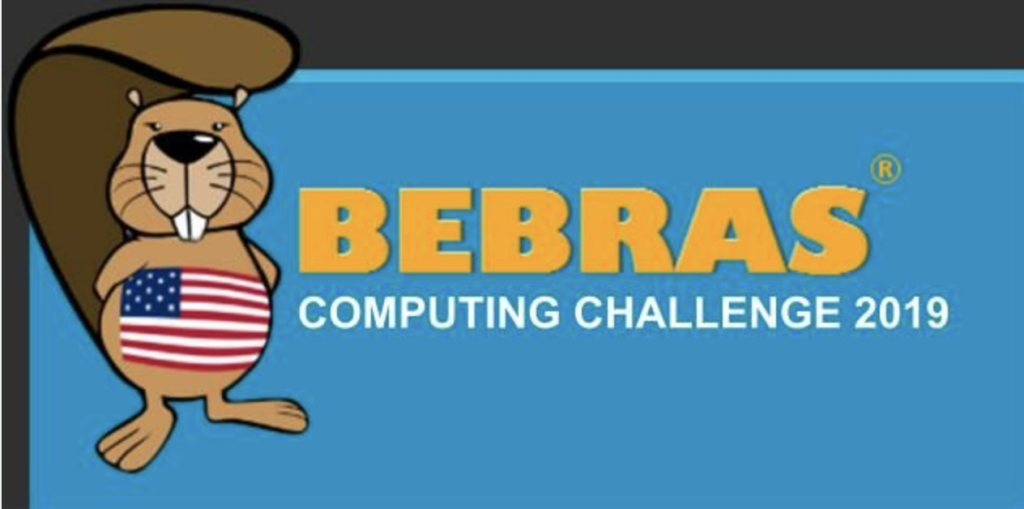 In the past week, KTBYTE students in classes FUN1a – CS00a participated in the Bebras 2019 Computing Challenge. Computational problems come in three different levels of difficulty, with correct answers scoring points and incorrect answers losing points. Competitors come from over 30 different countries as they test their skills. it was founded in Lithuania in 2004, and has grown to approximately 15k participants in the United States.
Congratulations to everyone who participated in the event!
Some sample questions are as follows:
If you'd like to work on some practice questions to challenge yourself, the Bebras website has challenges for different age groups you can do online: https://challenge.bebraschallenge.org/index.php?action=user_competitions
Benefits
For many students, this is a perfect way to introduce logical thinking in a competitive setting without the added stress of being in a new environment. Students get exposure to new problems they have not seen before, and can see first-hand how lessons in coding are applicable outside of class. Organizers get to take students through a competition that does not have extra fees for traveling, all while students learn valuable lessons along the way.
The challenge itself has fifteen different questions in ranging difficulties, from easy to hard. Different age groups get varying questions so that everyone has something that is difficult enough to challenge them, and the experience is tailored to benefit those competing. The questions are multiple choice and focus on various stages of the problem solving process, from understanding the problem or asking about ways to create a step by step process for solving the problem. Others even ask about predicting or verifying results from the given code.
For any student interested in computer science, this challenge takes apart complex problems and has students analyze just one part of it. This way, they'll be able to experience each aspect and focus on that as the other parts of the "code" has already been done.
Finally, this challenge is a perfect way to prepare students for the USACO, as questions from this competition are similar. Students will get better at analyzing potential solutions to real world problems through the problem solving process, and use the results to come up with the final answer.
Results
This year, KTBYTE students performed well as they worked through the competition. Overall, they performed better than the average participant in both the state and throughout the nation.
For the Castor group which comprises of students from ages 8 to 10, several managed to earn awards and distinctions, including Andrew Z., Michelle Z., and others. Andrew Z. and Michelle Z. earned Honor Roll distinctions. Below are the statistics for how they did. As you can see, students at KTBYTE almost doubled the state average.

KTBYTE students in the Benjamins group (ages 10 to 12) also performed well, receiving several distinctions as well. Irene P. earned the Best of School award with 168 points. In addition, Benjamin Z., Iris P., Amy H., Gavin L., Raymond H., Sikai Z., Kevin J., Branden W., Ben G., Nodoka I., and Kaeleigh N. earned distinctions as well.
Below, you can see the statistics comparing KTBYTE students to those in the state and country. Once again, our average was significantly better, almost 40 points above the state average and over 20 points above the national average.

This success was also seen for students in the Cadets group (ages 12 to 14). Multiple others earned a spot on the Honors roll. This includes Bella Q., David G., Mateo A., Bryce Z., Doreen D., Aaron C., Justin L., Amanda H., Mia K., Richard S., Aiden H., Leo X., Ying (Crystal) Z., Kevin Z., Bella Y., Viktor E., Yiray W., Lyon Z., Lisa S., and Franklin D..
Once again, as seen below, KTBYTE students were above the state and national average for this competition, performing 20 points higher on average.

Finally, in the older age division, we have the Juniors (ages 14 to 16). Many more students earned awards and distinctions. High ranking students on the Honor Roll include Christoph H., Luke L., Anthony Y., Eva Q., Stephanie W., Ryan Z., Ivan C., Peter N., Irene G., Zitian X., Sandra T., Jerry X., Charlotte C., Nate H., Rachel L., Alex G., Eric Z., Molly Z., Daniel L., Kaden S., Sean Z., Tommy C., and Megan L.
As seen below, the average score at KTBYTE is nearly 30 points higher than the state average, and 15 points higher than the nation's average.