Assistive Technology – Best in Grades 7-11: Griffin Li – Answer IT
Animal welfare – Best in grades 7-11: William Zhang – DEM
Community Awareness – Best in Grade 6: Kaden Shin – AFFSW
Environmental Impact – Best in Grade 5: Brandon Xie – Eco Warner
Health and Wellness – Best in Grade 7-11: Ria Mishra – Patient Alert System
Home Improvement – Best in Grade 3: Andrew Xu-Ding – Fire Guardian
Sports/Games/Toys/Music – Best in Grade 5: Jakob Farr – Umpire Buddies
Best in Grade 3rd Grade – 2nd Place: Andrew Xu-Ding – FireGuardian
Best in Grade 6th Grade – 3rd Place: Yuanheng Mao – CareBot
Best in Grade 6th Grade – 1st Place: Jerry Xu – TerraMech
Best in Grade 7-11 Grade – 3rd Place: Keyan Shahidullah – Guide Belt
Best in Grade 7-11 Grade – 1st Place: Tanishi Mishra – ExpertTracker
Best in Show Electric: Jakob Far – Umpire Buddies
Best in Show Global Impact Sustainability: Tanishi Mishra – The ExpertTracker
Best in Show Disruptive Tech 2nd Place: Jerry Xu – TerraMech
Griffin Li – Answer IT
William Zhang – DEM
Kaden Shin – AFFSW
Brandon Xie – Eco Warner
Ria Mishra – Patient Alert System
Andrew Xu-Ding – Fire Guardian
Jakob Farr – Umpire Buddies
Yuanheng Mao – CareBot
Jerry Xu – TerraMech
Keyan Shahidullah – Guide Belt
Tanishi Mishra – ExpertTracker
Kaden Shin – Waterbot
The Water-Bot is an advanced faucet specialized in saving water. The main feature is a motor that changes the flow rate for different size objects.

Yuanheng Mao – CareBot
The Carebot is a device that uses Machine Learning Algorithms to help and care for people with Dementia. It recognizes objects or words, gives out definitions and instructions, and can play and record audio. The Carebot is relatively compact and easy to use, and can be a low-costing replacement for a caretaker.
Keyan Shuhidullah – The Guide Belt
My invention, The Guide Belt, is a belt that aids blind people in navigating their surroundings. The belt detects objects around the wearer, and then shows them a clear path without any obstacles.

Jakob Farr – The Umpire Buddy
Brandon Xie – Eco-Warner
William Zhang
The DEM is an automated system that trains pet dogs to shoot baskets. The goal of the DEM is to make having a dog less of a hassle and to assist people who have less active lifestyles to own active dogs. The DEM combines ease of access with complex technology by having a large user interface with 2 LCDs with a keyboard and the ability to be controlled remotely through wifi.

Jerry Xu – TerraMech
My project is TerraMech. It can autonomously maneuver and detect weeds in your yard, and then exterminate them. It hopes to reduce time and effort spent on doing yard work so you can spend your valuable time doing more important activities.

Andrew Xu-Ding – FireGuardian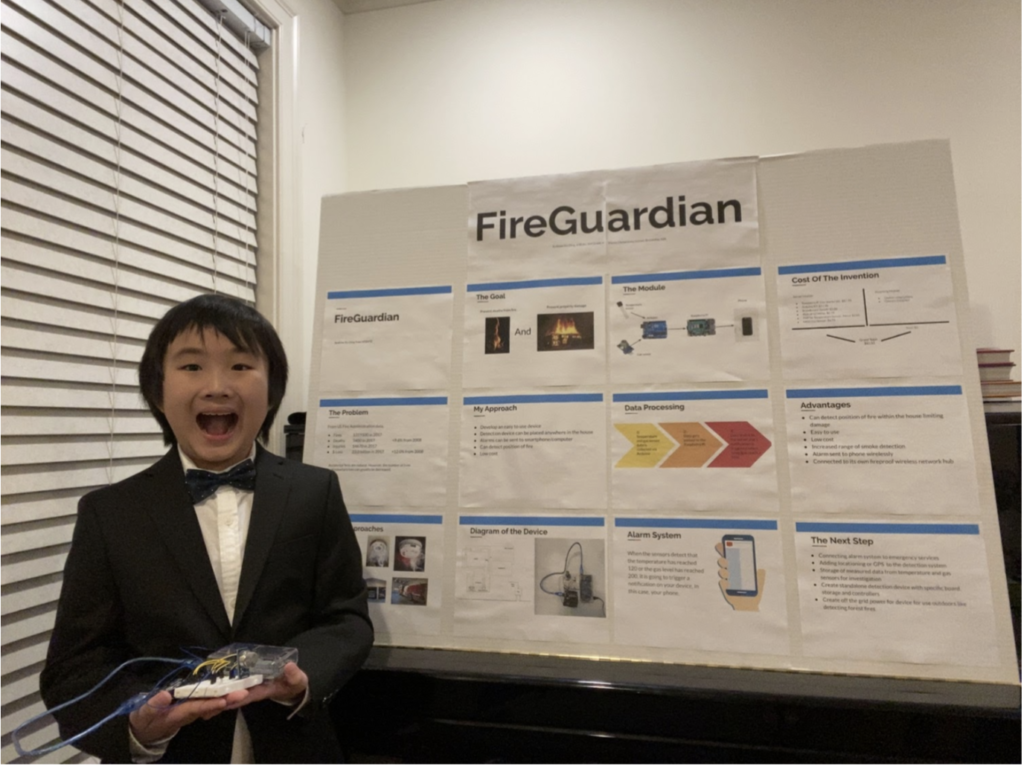 My invention is called FireGuardian.
It is a fire detection device which, can sense temperature and gas changes in the environment. Many devices can be placed in different regions of the house and linked onto a wireless server. FireGuardian can notify the owner or fire fighter exactly where the fire is. This enables the owner of the house or fire department to react accordingly to avoid the fire or limit the fire from spreading, saving lives and reducing property damage.